Jessica's 30th birthday
"I want something that I won't ever forget", said Jessica
Buying gifts for birthdays has always been a bit difficult. It's easier to just buy an Iphone, a watch or a ring. But that's not Jessica's style. We shared a habit of giving each other thoughtful and meaningful gifts. Since the time we've known each other, we rarely gave each other gifts that had no meaning or thought behind it. Of course Jessica is better at gift-giving than me.
Her gifts have always taken me by surprise. There's something beautiful when two people become creative in a relationship and now it was my turn.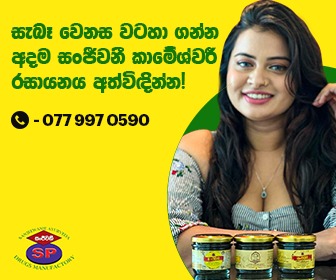 But this time I was totally lost.  So I did the next best thing, I went on Google to get some ideas. No insight there either, an empty mind was all I had.
2 more days…
"See…he still remembers"
Jessica forwarded me a message from Ijay that evening
"Hey angel, you're becoming thirty on Friday right?"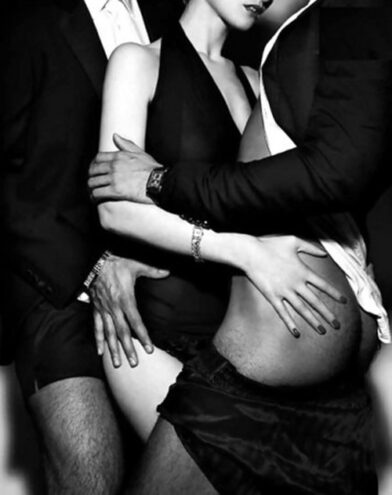 Ijay remembering Jessica's birthday only revealed my own forgetfulness. It's true that I'm terrible at remembering numbers, especially dates.
My friends always say that my memory cells have died because I smoke weed
'Don't be crazy machan, it's good to forget the past. Memory is a pathway to old ways of thinking, it's a barrier to progress'. Like with everything, I highlighted the bright side of this.
"Even if someone cut your balls off, you'd say its progress"
My friends know me very well. In fact, I never saw the negative side of most things. If something bad happened, I'd always look for the silver lining. I enjoyed doing that, but Jessica's 30th birthday had to be special.
I started brainstorming again for hours with no luck.
2 days to go and I still had no idea what to give her.
"Machan, do you have any idea what to get your wife for her birthday?"
I asked the guys who were aimlessly walking around the office.
"Machan, why don't you gift her ex-boyfriend for her birthday. Nothing can be more surprising than that right?"
Chamith said that in jest, but the thought didn't leave me. That's not a bad idea, I looked at my phone to read Ijay's message again.
I made up my mind.
"This time I'm going to give you something incomparable, but you should give me the freedom to do whatever I want. You should be hundred percent submissive" I told Jessica when I got home that afternoon.
I got Jessica's consent for my mind-blowing plan.
"What..what are you going to do? Are you going to kill me murderer..?"
She came and sat on my lap, started sucking my lips to interrupt me from talking. She kissed and sucked on them as she liked. I was still in my office clothes. She started teasing me, as if to punish me for keeping her birthday plan a secret. Without my permission, she removed my belt and slipped her hand in to stroke my cock.
Just the touch of her fingers was enough to get me aroused. I called them 'magic fingers'. Her fingers aroused and stimulated me even when I'm lying in bed, exhausted after great sex.
You'd think that would happen to me with any woman. No, only Jessica could turn me on like that
Jessica zipped down my pants and started caressing my penis with her fingertips.  Next thing I know, she put it inside her soft mouth.
Jessica and I have been married for 3 years. We live in a small apartment. There is a church opposite our flat. Some days, we would hear the choir singing from across the lane.
This was our favorite time to have sex, when the soft rays of the evening sun seeped through the window and the choir is singing in the background. Making love to Jessica's divine body, kissing her to the soulful music of hymns was a thrill that gave me so much pleasure.  She called me a pervert.
Since Jessica had given me permission to do whatever I want for her birthday, I called Ijay
"Machan…"
5th of August. My excitement that day was off the roof.  Naively, Jessica went to office. I stayed back.. I tidied the house, made everything look good and got ready for our crazy evening.  I put 'cigarettes after sex' to play in the background.
Now everything was ready for the night. I lit up fragrant candles, cut up some cheese, apples and grapes to make a delicious platter.  The living room was filled with red balloons, Jessica's favorite colour. I waited for the cake.
On the table was a beautiful handcrafted wooden box, inside that was Jessica's birthday gift.
The clock was ticking…
Jessica came home sharp at 5pm..
"Happy Birthday my angel…."
She looked in surprise at all the decorations I had done. She was happy, she came to me with tears in her eyes and put her arms lovingly around me.
 "Am I going to be too old for you Dee?"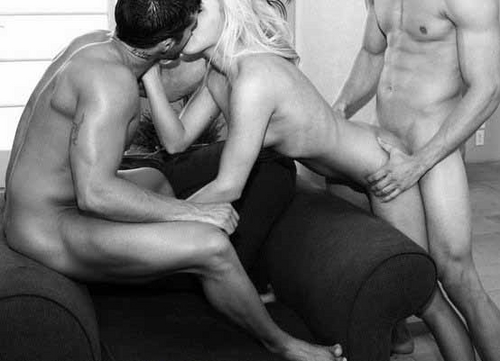 Jessica is 8 years younger to me
'You're starting your naughty thirties my love'…
I kissed her lips affectionately.
"You taste like a forest" she remarked
I had just finished smoking a joint
Jessica thought this was it. She glanced at the mysterious box on the table and went over to open it.
"Nope"
I stopped her. I took her to the bathroom for a shower. After the shower, I took a  towel and started wiping her body slowly. I grabbed her honey and almond moisturizing cream from the drawer and applied it all over her neck, arms and legs. Then I took her Ralph Lauren Romance perfume and dabbed a few drops in all her pulse points.
Jessica's body released a sweet woody scent. The fragrance of a beautiful naked woman, my Jessica.
She had already bought her birthday outfit, a long blue dress. It was a backless dress so she didn't wear a bra. The dress had a long slit that revealed Jessica's beautiful legs, she wore her heels and looked in the mirror.
Jessica in her blue dress aroused me
She probably thinks we are going out for dinner.
I took her by the hand and went over to the table where my gift was. I opened the wooden box and took out the red satin cloth.
"What??? Are you going to blindfold me??"
Jessica looked surprised and half-shocked at the same time.  I was thrilled. I nodded. Now she doesn't have permission to say anything.
She just had to be submissive tonight.
"You are a crazy bastard!". She said while I put the satin cloth to cover her eyes. I went  behind her and tightened the knot.
Ijay was already downstairs. I sent him a text. Everything was ready for the night. The only problem is that my heart is beating faster than usual.
'Can a person die from having a heart that beats too fast? Would I die as a lover with a broken heart?''
More importantly, is what I'm about to do right?  If I cross a boundary today, if something goes wrong, the damage might be irreversible.  But someone had to commit the crime. I justified tonight's plan in my perverted mind.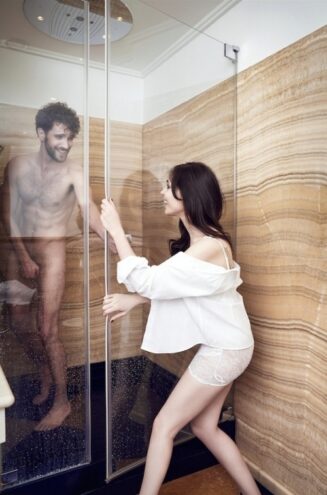 I took Jessica to the bedroom. Switched off the lights and lit up the candles. Then I poured wine into three glasses and put on some jazz music in the background
Ijay entered the room. Without saying a single word, I hugged and welcomed him. I asked him to stay silent.
"So what are we doing?"
Jessica asked, confused by my long silence.
"We are undressing now"
I took Jessica in front of Ijay. I started undressing her, her blue dress fell down to the floor, revealing her breasts. One nipple was reddened from a hickey I gave her last night. I asked Ijay to kiss her breasts. He looked nervous. The unfamiliar soft touch of Ijay gave Jessica goosebumps.
I watched as Ijay kissed my wife's breasts. It's an indescribable feeling. The eroticism and the wildness of this moment was not a sensation I had experienced before.
It was arousing to see Jessica's breasts moving to the rhythm of Ijay's tongue. She moaned.
"Dee"
Ijay pressed her breasts tight. I tried to control my cock that was getting harder by the second.
Ijay removed his pants, he has a bigger cock than me, and I watched it become erect.
Jessica touched it and knelt down in front of Ijay.
Ijay looked at me just before Jessica was about to put his dick inside her mouth. My eyes were fixed on Jessica's lips.
Seconds later, Ijay's cock disappeared into Jessica's mouth completely. He covered his mouth to stop himself from moaning
Jessica grabbed his ass to suck his dick harder. I watched as she playfully licked it, gliding her tongue all over his penis. I walked around them, watching closely while giving myself a hand-job.
In a sudden moment, I intensely felt the pain and the pleasure from watching my wife making love to another man.
I thought of rolling some Kush. This is a good time to get high.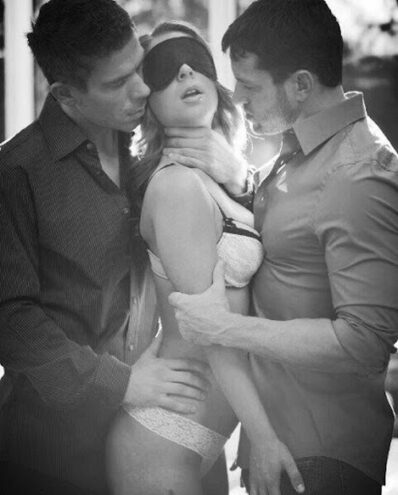 I started rolling the joint with unsteady hands and an erect dick.  My eyes didn't want to miss anything that was happening between Jessica and Ijay, so I finished rolling the joint quickly.
"You're dick has got bigger Dee.."
Jessica lovingly whispered to Ijay…
I lit up my joint and shared it with Ijay. He took a couple of puffs. Ijay smoked the joint in one hand and held Jessica's head tight towards his penis from the other hand. She started gagging and coughing. Ijay loosened his grip.
He completely stripped off Jessica and laid her down on the bed and started kissing her wet pussy.
Jessica had shaved her vagina, leaving just a little bit of pubic hair. She did that for me, for tonight, but it was Ijay who was eating her out right now.  That moment of selfless eroticism gave me a sense of deep affection.
While sucking on Jessica's nipples, Ijay brought his cock in front of Jessica's vagina. He started playfully caressing Jessica's pussy lips. Unable to stay still with the pleasure, Jessica moaned.
"Dee"…
Jessica said my name again, but it was Ijay who was there.
I watched closely as Ijay entered inside Jessica. I came to the edge but managed to stop by thinking about something else.
Ijay grabbed Jessica's legs towards him and moved inside her. I could tell from the way their bodies touched that they had made love many times before Jessica and I got together. Jessica's vagina lovingly welcomed Ijay's cock.
Ijay rolled Jessica over and started caressing the opening of Jessica's ass. He seemed possessive of Jessica
"You are so good you bastard!". Jessica was enjoying every bit of this.
"Why are you silent? Isn't it exciting for you?"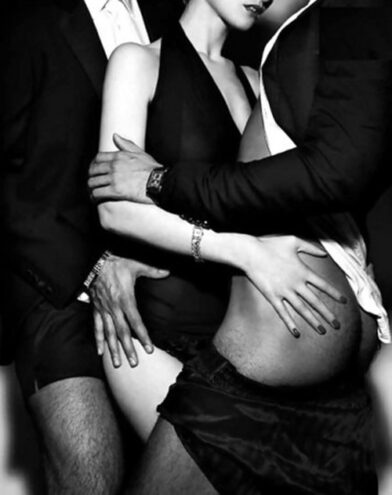 "Hmm.. you're a slut you know that right" I finally broke the silence
That aroused her even more. Ijay was about to enter his cock inside her ass but I stopped him
"Haven't you two done that yet?"  Ijay asked me.
It seemed like that they have had alot of anal sex before. Ijay ignored me and effortlessly thrusted his cock inside. Jesssica panicked.
"You can't be!"
Jessica removed the blindfold. She looked at Ijay and then at me. Overcome by surprise and disbelief, she covered her face for a few minutes.
"I can't believe this!" Jessica screamed
Jessica looked mad at me, so I went near her and started stroking her hair.
"Are you upset?" I asked
'Shhhh..
She let Ijay keep his dick inside her. Jessica looked at me, shy and naughty at the same time. I thought she never looked so beautiful as she did right now
While Ijay and Jessica were having anal sex, Jessica gestured me to come near her, she grabbed my dick and started sucking it.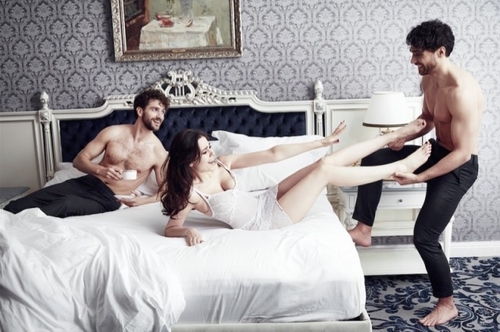 I couldn't hold it any longer. Tonight was my wildest fantasy come true. I felt like a star about to burst into a million pieces. I took Jessica's moving breasts in my hand
I vaguely remember that Ijay came inside Jessica; she took a moment to enjoy Ijay's release. She looked at him with eyes full of love.  Bonds that were once strong don't easily fade because of distance, Ijay and Jessica both knew that.
Then I came.  My cum fell like a drizzle all over Jessica's body and a little bit of it came on Ijay.
We laughed. The three of us stayed in bed talking and laughing, reminiscing stories from the past. I was happy to see Jessica evolving her idea of what marriage is. She looked happy to share love with Ijay and me.  This was a new adventure for us.
We went to the living room and cut Jessica's birthday cake.  We had cake and finished a couple of wine bottles, all the while being naked. We kissed each other often that night and our love continued to blossom.
---
END
---
Rochelle Abeywardena